Free E-Book: Microsoft Press : Introducing System Center 2012 R2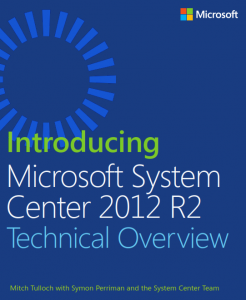 Microsoft System Center is one of the three pillars of Microsoft's Cloud OS vision that will transform the traditional datacenter environment, help businesses unlock insights in data stored anywhere, enable the development of a wide range of modern business applications, and empower IT to support users who work anywhere while being able to manage any device in a secure and consistent way. The other two pillars of the Cloud OS are, of course, Windows Server 2012 R2 and Windows Azure, and Microsoft Press has recently released free Introducing books on these platforms as well.
Whether you are new to System Center or are already using it in your business, this book has something that should interest you. The capabilities of each component of System Center 2012 R2 are first described and then demonstrated chapter by chapter. Real-world and under-the-hood insights are also provided by insiders at Microsoft who live and breathe System Center, and those of you who are experienced with the platform will benefit from the wisdom and experience of these experts. We also included a list of additional resources at the end of each chapter where you can learn more about each System Center component.
PUBLISHED BY
Microsoft Press
A Division of Microsoft Corporation
One Microsoft Way
Redmond, Washington 98052-6399
Copyright © 2013 Microsoft Corporation
All rights reserved. No part of the contents of this book may be reproduced or transmitted in any form or by any means without the written permission of the publisher.
Library of Congress Control Number: 2013949895
ISBN: 978-0-7356-8283-2
[sociallocker]
[/sociallocker]