Creating a Guest Operating System Profile in System Center Virtual Machine Manager 2012 R2
In System Center Virtual Machine Manager (SCVMM), a profile is a library resource that contains specifications that can be applied to a new virtual machine or a virtual machine template. A guest operating system profile is a collection of operating system settings that we use during a virtual machine deployment. We can create guest operating system profile to ensure standard settings for the operating systems on virtual machines. Guest operating system profiles are Virtual Machine Manager Database objects. They are not associated with any physical files. The guest operating system profiles include:
Operating System version
Identify information
Local administrator password
Product key
Time zone
Server roles and features
Domain/ Workgroup membership
Answer File
GUIRunOnce commands
The wizard also include a Dependencies page that is empty by default, an Access page, where we specify the users access to whom the profile can be shared, and Validation Errors of hardware profile.
To create a guest OS profile, perform the following steps:
1. Open the Library workspace, in the navigation pane, expand Profiles, then right click Guest OS Profiles, and then click Create Guest OS Profile.
2. On the New Guest OS Profile dialog box, on the General tab, in the Name box, type the name for the guest operating system profile. For example, type Windows Server 2012 R2. In the Compatibility box select Microsoft Windows and click OK.
3. Right-click on just created Guest OS profiles, Windows Server 2012 R2 and click Properties.
4. Click the Guest OS Profile tab, and then configure the required settings as shown in figures.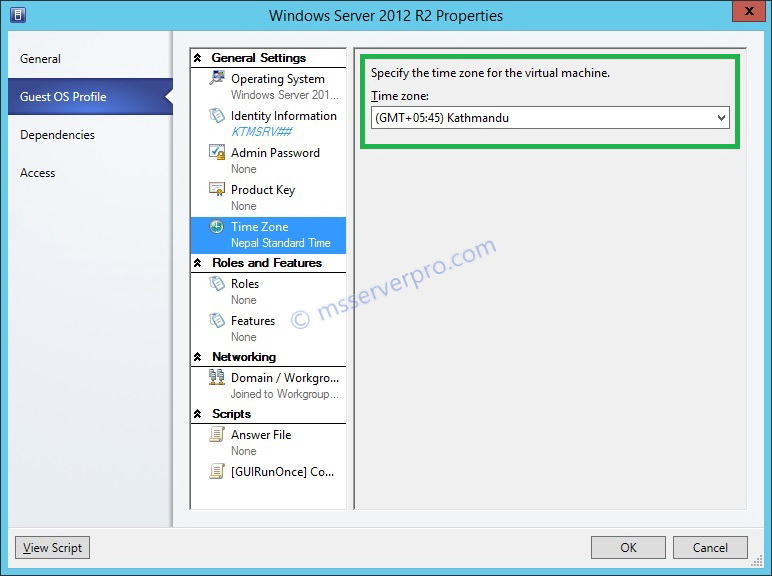 Summary:
I hope this article will help a lot during creating a guest operating system profile in System Center Virtual Machine Manager 202 R2.