Redirecting HTTP Request to SSL Request in Exchange Server 2007
When you enabled SSL on our Client Access Server, your phone is glowing with calls from frustrated users who can no longer access their mailboxes through Outlook Web Access. What do you do? So that the end users are accessing their Outlook Web Access without any problems. For example, the user can type simply: mail.singhholding.com rather than https://mail.singhholding.com/owa.
1. Open
Internet Information Services(IIS) Manager.
2.
Right-click Web Sites
and then
select >New >Web Site…
3. Click Next 4. On the Web Site Description page, type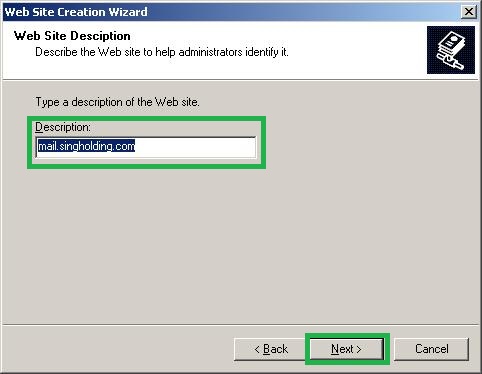 5. On the IP Address and Port Settings page, type
6. At the Web Site Home Directory page, type
C:\Inetpub\wwwroot
7. Click
Next> Next >
8. Finish. 9.
Right-Click the site you just created
, and then
click Properties
. 10. Click the
Home Directory tab
and
select A redirection to a URL
, and
then type https://mail.singholding.com/owa.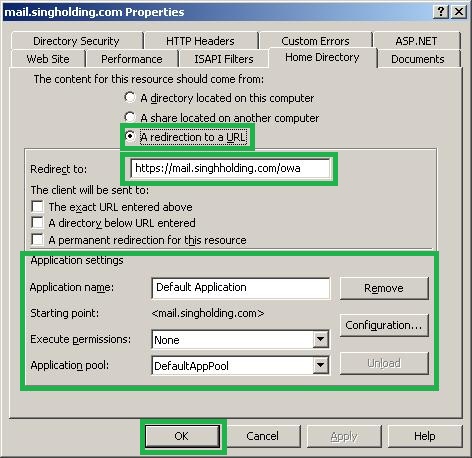 11. Click
Apply
and
OK
. 12. We can now type
mail.singholding.com
in a Web browser and automatically be redirected to
https://mail.singhholding.com/owa
.
Summary:
In this article, I showed you Redirecting HTTP request to SSL request in Exchange Server 2007. And this also works in Exchange Server 2003.For this you have to simply change to /owa to /exchange.